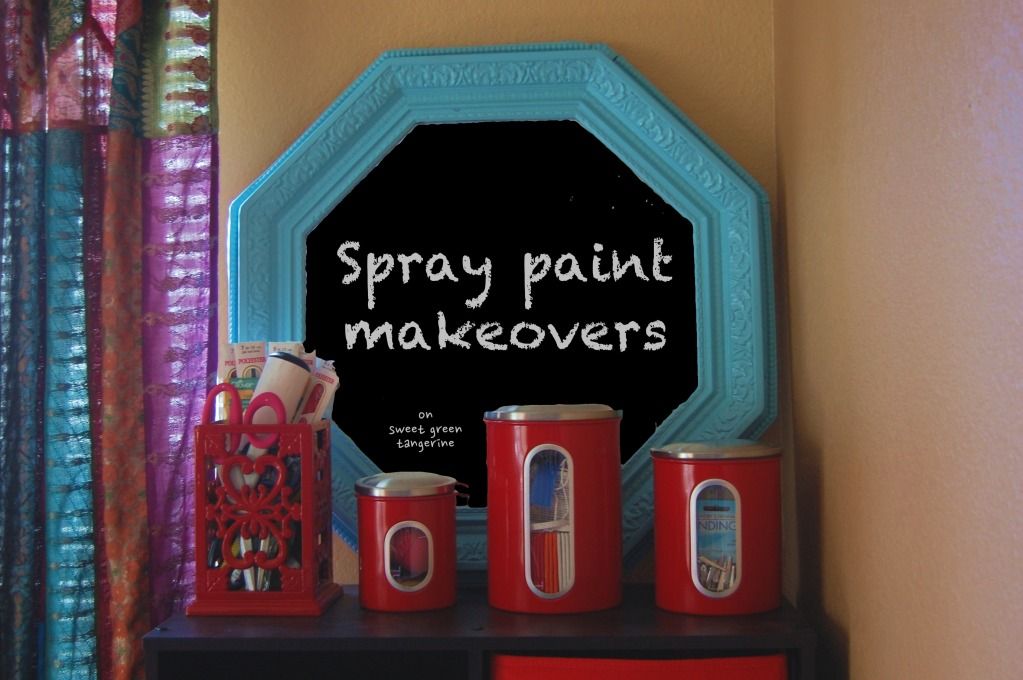 If there's anything I love about decorating my home, it's adding color. Most of the time, they don't match, but they do grab your attention, and that's really what's important isn't it? Color just brightens my day & makes me smile.
So, I've been having a blast taking some of my thrift store and garage sale treasures & turning them into something fresh & beautiful. It hasn't always been easy. This was my first real time using spray paint and I got off to a bit of a rocky start. I was too close, I was too far, it dripped, it did a weird bunching up thing. Grrrr... Truth be told, I almost gave up. But...my saving grace stepped in (you know,
Ballistic Gypsy
) & it all turned out pretty well. Fantastic, actually.
So, these were some of my finds...These were some garage sale picks. The small tray and gawdy candlesticks had a date with some spray paint. Muah-ha-ha!
I love how fresh & funky these candlesticks turned out.
Cute little tray + candlestick from Goodwill + Super glue = Perfect jewelry dish for the bedside table.
Yet another great idea from my partner-in-crime. Thanks Becky!
And how about that color? Ahhh...so pretty.
Next up.
Remember that ugly mirror I got from GW a few weeks back? Well, this poor mirror almost didn't make it. After being stepped on & getting spray paint on the mirror part, it was on the verge of being in dumpster-land.
But after some serious TLC, it pulled through & turned out much better than I thought it would. In fact, I think it's my favorite. I love a good underdog story. :)
Ta-Da...
If you've ever spray painted before, then you know that once you get your hands on a can & see what a difference it can make, you begin to walk around your house & see what else needs a fresh look. So here's what happened to some of my poor victims...
A boring white canister to start & now POP!
That banana hanger is plum...bad lighting. Bleh. It's much prettier in person. And I love keeping my cookbooks in this now orange magazine holder.
This was an off-white bathroom shelf. Now with some black paint & pretty scrapbook paper, it really pops in my craft room.
Even though it hasn't always gone well, I refuse to give up spray painting. I've got my eye on some book shelves...