It's Thursday again!
This week we are talking about audiobooks! I can't wait to hear your thoughts on this topic. You can share your favorites or you can just share your thoughts in general. As always, anything goes!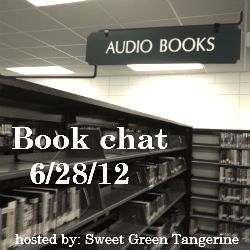 I've only listened to
three
books on audiobook, so I'll give you my review on those three.
1.
Esperanza Rising by Pam Munoz Ryan
I "read" this for a YA Lit class in college. I was so busy reading so much for school, when I found this audiobook at the library, I decided to listen to it during my long commutes. It was my first experience with audiobooks and it was a very pleasant one. Not only is this an excellent book, the audiobook, I think, made it even better. Because the story took place around a Mexican family, the reader's accent and fluency in Spanish made the story that much more authentic. I often found myself sitting in the driveway not wanting to get out of the car because I was too enthralled in the story.
As for the novel itself, I would say it's geared towards readers ages 10-16, but even I enjoyed it immensely. It is such a beautiful story and it gave me a new perspective on a very controversial issue. I highly recommend it.
4 out of 5 stars
2.
Along for the Ride by Sarah Dessen
This was one audiobook where I felt reading the book would have been better simply because of the reader. She had this very high-pithched, valley-girl voice. It was almost unbearable at first. I got used to it after a while, and I think it fit the story in a way. I learned that the reader makes all the difference.
Room
by Emma Donoghue was one audiobook that I could not even finish the first chapter because the readers voice was so unbearable. It was an adult's voice read as a child's voice. I just couldn't take it seriously.
As for
Along for the Ride
as a novel, I thought it was good, not great, but good. I think it's probably just not my style. The story was nice and there was a good amount of depth to it considering how I expected it to be on the shallow side. I know there are many Dessen fans out there, and as far as contemporary teen lit goes, I can see why she's so popular.
3 out of 5 stars
3.
Fire by Kristin Cashore
I love, love, love this book and audiobook. After listening to half of this book in my car, I chose to rent the physical book itself so that I could read it when I wasn't in my car. I couldn't get enough! This did create a minor problem though because it was hard to find where I left off on the audiobook when I got back in my car. I actually preferred to listen to the audiobook because I enjoyed the reader's voice so much. She had an exquisite British accent so that even when I was reading the book in bed at night, I was reading it with a British accent in my head. Ha! There were times I would find an excuse to drive somewhere just so I could hear it.
As for the novel itself, I cannot rave enough about Kristin Cashore. She is quickly becoming one of my favorite YA writers. The world she has created in
Graceling
,
Fire
and
Bitterblue
is so enthralling and consuming, I never want to leave. On top of that, her female characters are some of the best in her genre.
5 out of 5 stars
Well there are my reviews. All in all, I would say that the reader makes all of the difference when it comes to audiobooks. I love getting audiobooks from the library and putting them on my iPod. It's just too easy. Unfortunately, I can't listen to them all the time because the boys are adamant on not letting me enjoy them. This is all I hear from the backseat: "What happened?" "Who did that?" "Why is she crying, Mom?" So I just turn on Kids Place Live instead.
Can't wait to hear your thoughts! Link up below.
Next week's prompt: Your favorite author.