Saturday Sweet Links {Better Late than Never}
I apologize for being a bit absent from the blog world lately. It always happens after a big vacation like I took, but I just sort of run out of things to blog about. As you can see, that is my empty blog schedule. {
Thank the blog gods for The Book Chat, am I right?
} I took that time to dive into some blog design and came up with a whole new look. The good news is...that couple weeks off has been very proven to be exactly what I needed because I have a stocked full schedule of blog posts now. In fact, I decided it's time to branch out a bit with the topics so I have some tutorials, reviews, and link-ups coming. I'm excited about where I hope the blog is going in the second half of this year.
So for now...a little late, I know...Saturday Sunday Sweet Links!
A
great post
by my friend, Ballistic Gyspy, to get the kids involved in the Olympics.
Hardware store jewelry ideas
...love it!
Megan is celebrating reaching 100 followers with a
GREAT giveaway
. Check it out. Great job, Megan!
My current music obsession. Can't wait for their new album in September. Seriously, The XX...where have you been all my life?!
And the Book.Chat. topic this week is all about quotes. They can be quotes from books, poems, speakers, your sister...doesn't matter. I need a break from just rattling off books I've read. I think I need to read more books so I have more options for the book chat answers!
This week should be fun. I love quotes.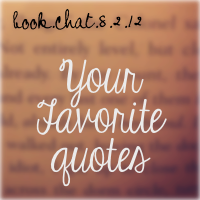 Hope you join us this Thursday!
Well, it's not much, but that's all I have for today. We've been too glued to the Olympics to do anything else.
Speaking of...did you see that Opening Ceremony last night? Phenomenal, I thought. Ending with "Hey Jude"...awww shucks London. You had me all teary eyed. And the kids pretty thrilled about that.
Happy weekend!
~~~~
Jessica