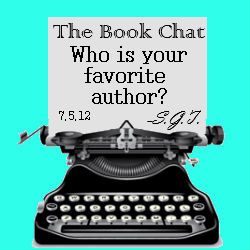 There are just some authors out there whose books I purchase as soon as they are released. They are authors whose writing style I have come to know and love. They are familiar to me and they have inspired me in my own writing. I don't always love the most popular authors and the ones I do cherish aren't necessarily the best out there, but they are the best for me. I think that is one thing every book worm must do. Find the authors who fit your reading personality best.
Well these are mine...
1.
J. R. Ward
- Ward remains the only romance author who I enjoy to read. I love her humor and her style. Even if she's writing a facebook status, I'm reading it. My favorite thing about Ward is her love of her own characters. She treats them like they are real people respecting her readers' adoration for them. I also love that she shows no sign of quitting anytime soon. Keem 'em coming Ward!
2.
Markus Zusak
- It was instant love for Zusak when I read
The Book Thief
. His writing style is creative and engaging. Reading
The Book Thief
was so refreshing and new! It is one of the only books where I can remember the "way" it was written. I also enjoyed
I am the Messenger
, but much less so than
The Book Thief
. But seriously, Markus, whatcha been up to man? We're waiting...
3.
Kristin Cashore
- The first time I read
Graceling
I loved it, but then that was about it. A year or so later, I read
Fire
and it was real love. Here are the things I love about Cashore: she writes her stories in the same fantasy realm and it is SO cool. You wouldn't know her stories are even YA at all because the characters are mature, the subject matter is dark and her writing has integrity. And most of all, her female characters are amazing. She's getting lost in the crowd of YA authors and I really want people to see her for the brilliant storyteller she is.
There are, of course, many more authors who I enjoy but these are the ones whose every piece of work ever dreamt, printed and published I will read the very first second I can. Anyone can write a good story, but these authors go beyond that. They write those stories in a way that makes it personal. They speak to me and it's their voice I prefer. Write on you brilliant storytellers!
So who are your favorite authors? I would love to hear.
Next Thursday we will be talking about cover art. Do you judge a book by its cover?