Hey friends. It's Thursday, and even though the.book.chat is on hiatus during the Blogger Book Swap, I wanted to share a cool book challenge I'm participating in that starts
today
.
Megan held a Summer Book Challenge that I didn't finish due to my reading drought that I suffered all summer. I have faith in this challenge. I've decided not to choose books I'm not likely to read. I'm even hesitant to share the list with the fear that I might jinx it and be then doomed to not finish it.
Oh well...I'll risk it.
Here's my list...
5 points: Read a book by an author you haven't read before:
The Night Circus by Erin Morgenstern (started this today on audiobook. I'm already an hour into it and I love it!)
5 points: A book you have at home but haven't read yet:
Into the Darkest Corner by Elizabeth Haynes
10 points: A book written in the decade you were born:
Ender's Game by Orson Scott Card
10 points: A book that takes place in your home state:
Still looking... Do you know a good book set in Alabama?
15 points: The _____'s daughter/wife:
The Mad Scientist's Daughter by Cassandra Rose Clark
15 points: Originally written in another language:
The Unbearable Lightness of Being by Milan Kundera
20 points: A book with a number in the title:
Fifty Shades Freed by E.L. James
20 points: A book set during Christmas or other winter holiday:
Home in Time for Christmas by Heather Graham
20 points: Author with the same initials as me:
Bad Miss Bennet by Jean Burnett
25 points: Pulitzer Prize winner or finalist:
A Visit from the Good Squad by Jennifer Egan
25 points: Re-read a book:
Catching Fire by Suzanne Collins
30 points: 3 books from 3 different genres:
The Unbecoming of Mara Dyer (YA), And All the Stars by Andrea K. Host (Sci-Fi), The Comfort of Lies by Randy Susan Meyers (Fiction/Lit)
I love that her challenges involve scores and points and causes us to seek out new books we might not have seen otherwise. If you like to read, I do hope you join in.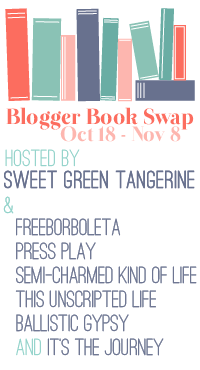 As for the Blogger Book Swap, everyone should have completed their shopping and hopefully their shipping. If you haven't shipped yet, no worries! Just try to ship this week so that your partner will receive it in time to blog about it and link up next Thursday. If it seems that people need more time, we can extend the link-up for an extra week.
If you are having a problem at all, please let me know. Hope you're all enjoying the swap!
Happy reading...