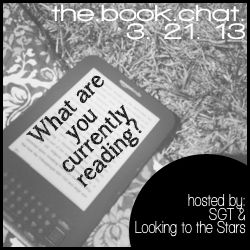 Happy Thursday friends! This week is complete madness around here. Jeremy graduates from flight school today (hooray!) so we have lots of family in town and lots going on. I'll share more on Sunday with pictures, but today is book chat day!
Today, our co-host is Erica from Looking to the Stars. She is pretty awesome and I just love her blog. Go over and say Hi!
For today's book chat, we're keeping it simple. Just share what you're currently reading or if you have finished something recently, share a review.
As for me...I'm reading two books.
This one is a review copy from Netgalley. It's slow moving and at risk of being put on pause.
It's an adult dystopian novel, and it's an interesting premise. I just wish the action would pick up a little bit. Full review to come soon.
This is the book I want to talk about...
So, last night I had to drive to Atlanta to pick up my mother-in-law from the airport. It was a four hour drive so I got through about half of the book. I was immediately taken away by this story. I am in love with Brashares' writing. There were gasps and tears and shouts. I haven't finished it yet, but I can already say I love it. Daniel is instantly one of my favorite male characters. I have a doozy of a review in the works.
Have you read either of these?
What are you currently reading? Come book chat with us!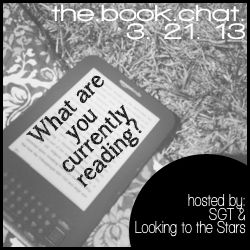 To join in...
1. Please follow the host and co-host
2. Visit a few other book chat links and show some support.
3. Link back here in your post. Or use the button provided.
4. Old posts are always welcome if you have blogged on the topic before.