Happy Thursday my book chatters. Hope you are all having a fantastic week. Has Spring sprung for you yet? It's teasing us here, but at least it's warmer here than it will be in Germany.
Anywho...today, our co-host is Ashley of This Unscripted Life. If you did not know this yet, you should know that Ashley and I have been friends since 2004. She and I lived in Germany, both newlyweds and on our own for the first time. We bonded right away and became life long friends. We even had our first babies within 3 months of each other. Even though, we don't live near each other anymore, we still remain close, and when she began blogging, I was ecstatic...now we are as close as ever!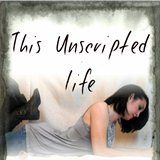 Okay, so for today, we are talking about our favorite settings. When a book has the power to transform you, to take you someplace amazing and mysterious, then it's really all in the setting then, isn't it? When a setting is truly part of the story, then it becomes something much more than a place. It's not often that I pay much attention to landscape or setting, but these two books' settings had a major effect on me.
This entire series takes place in the Seven Kingdoms. I cannot get enough of it. The scenery is gorgeous, the characters are intriguing, there is magic and mystery imbedded in the landscape of the stories. I hope she never stops telling stories in this world. You hear that, Cashore? Get to work. Thank you.
Might I suggest something in Monsea? Just a thought. Carry on.
This HAS to be made into a movie, for setting alone. And it better be MAGICAL. The setting made this book. The story is good, the characters are phenomenal, but the magic is all in the setting,
Le Cirque des Rêves
. I sighed even while typing that name. Each finite detail of the circus is intricately woven through Morgenstern's artistic writing. It's so incredible. Each tent of the circus stretches your imagination beyond what you have ever imagined before. I want this circus to exist!
"The sign outside this tent is accompanied by a small box full of smooth black stones. The text instructs you to take one with you as you enter. Inside, the tent is dark, the ceiling covered with open black umbrellas, the curving handles hanging down like icicles. In the center of the room there is a pool. A pond enclosed within a black stone wall that is surrounded by white gravel. The air carries the salty tinge of the ocean. You walk over to the edge to look inside. The gravel crunches beneath your feet. It is shallow, but it is glowing. A shimmering, shifting light cascades up through the surface of the water. A soft radiance, enough to illuminate the pool and the stones that sit at the bottom. Hundreds of stones, each identical to the one you hold in your hand. The light beneath filters through the spaces between the stones. Reflections ripple around the room, making it appear as though the entire tent is underwater. You sit on the wall, turning your black stone over and over in your fingers. The stillness of the tent becomes a quiet melancholy. Memories begin to creep forward from hidden corners of your mind. Passing disappointments. Lost chances and lost causes. Heartbreaks and pain and desolate, horrible loneliness. Sorrows you thought long forgotten mingle with still-fresh wounds. The stone feels heavier in your hand. When you drop it in the pool to join the rest of the stones, you feel lighter. As though you have released something more than a smooth polished piece of rock."
So, let's hear it. What is your favorite setting? It can be real, fictional, past, present or future. How did the setting effect the story? What do you love about it?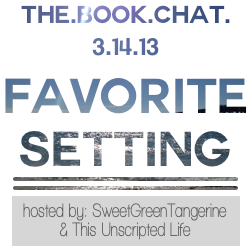 To join in...
1. Please follow the host and co-host
2. Visit a few other book chat links and show some support.
3. Link back here in your post. Or use the button provided.
4. Old posts are always welcome if you have blogged on the topic before.
I'm still looking for a co-host for next week, so let me know if you're interested!!