Welcome back, book chatters! I hope you all are enjoying your summer so far! We are at that part of summer where we don't have a lot planned and we're just trying to avoid boredom while staying cool. So far, it has been fun though.
As for today, the book chat is back!
And the lovely
Erica of Looking to the Stars
is our co-host today! If you are not following her yet, you should be! Please go say hello.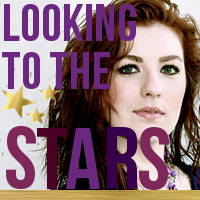 Today's topic is a favorite of mine. It's always been a nerdy habit of mine to create little playlists to collaborate with whatever I'm reading. I love to share them on the blog and you can find some of my past ones here.
Sadly, I haven't done this in a while for two reasons.
One - We no longer have SiriusXM. Turns out you can't get satellite radio in Europe. Get some new satellites already! I was addicted to AltNation and XMU, two stations that played the best in Alternative and Indie. I'm SO behind on music right now, it makes me want to cry.
Two - I'm on VERY limited internet so Spotify and streaming is out of the question. I don't even buy any new music online because I would then have to download it and take up my precious gigs. Brutal.
Anyway, I'm done complaining now. I can still play along today and share a few good song/book combos.
"Brave" by Sara Bareilles
This new single by one of my favorite singer songwriters reminds me a lot of the character Lou.
(THIS book has a DOOZY of a review coming soon)
Oh and right now you can stream the new SB album in iTunes. So, go, stream away, stream for me!
"Radioactive" by Imagine Dragons
This song screams Dauntless.
"A Thousand Years" by Christina Perri
I get a little weepy every time I hear this song because I associate it with this book.
"Sacrilege" by Yeah Yeah Yeah's
They both have that dirty, naughty, slightly twisted feel to them.
So, that's what I have. I could go on for days. Bringing my two favorite things together. I love it.
So, I hope you join in! You can do a playlist you like to listen to while you read or do what I did and share a song or two. If you've never done it, you should try!
To join in...
1. Please follow the host and co-host
2. Visit a few other book chat links and show some support.
3. Link back here in your post. Or use the button provided.
4. Old posts are always welcome if you have blogged on the topic before.
Next week: It's all about YA lit! Share your favorites, least favorites or just your thoughts on the topic.