It's just another day for book nerds when it's announced that your favorite book is being made into a movie. I'm one part nervous, one part excited, and one part bitter that my favorite book is going to be broadcast to the world like some mainstream trollop. Terrible action figures and corny shirts at Hot Topic…end my torture.
And for the most part, the film adaptations are usually…okay. Like, they're rarely mind blowing. They're rarely original, creative or artistic. They're just…the book…on screen. And (book nerds, join me here) we don't need the book on screen. WE HAVE IT IN OUR HEADS.
But pat on the back for you…making millions of dollars on something an author has already made popular. I see what you did there.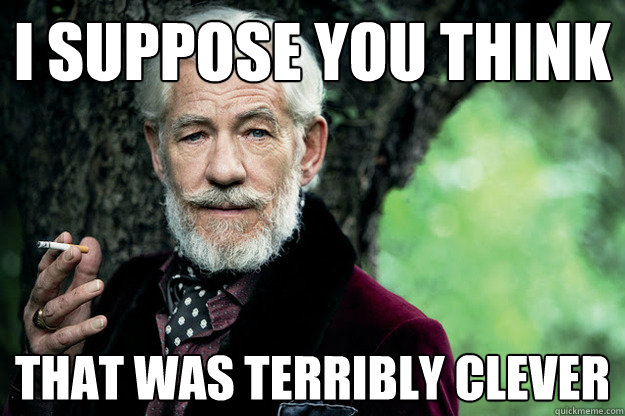 It is possible though. It's a truth universally acknowledged that a book in possession of film potential must be in want of an excellent director.
Sometimes, directors are inspired by fiction. Sometimes, they make something artistic and original AND although different than the book, just as good in comparison.
Different and excellent. Not different and just okay. See the difference there?
Okay, enough chatter. Here's the list:
5. Romeo and Juliet - Baz Luhrmann
It's basically my high school years, right here. Done. Teens get to understand Shakespeare, and it was pretty. Well done, Luhrmann.
4. Clueless
Fact: Clueless was the first modern teen flick based on classic literature. (No, don't quote me on that, I'm probably wrong) but the point is that most people walked away from this movie not even knowing that it is a film adaptation of
Emma
by Jane Austen, and then, whether or not they care, they just kinda learned something about Georgian England and youthful hubris. Boom. Educated.
3. The Great Gatsby - Baz Lurhman
Maybe I'm biased, but B-Lurhmann could do no wrong. I know this film was heavily criticized, but I thought it was fantastic. It was everything the book was and more. And I love that book. The best part of this movie for me was the cast. And the design. Just all of it.
2. The Hunger Games
So, this was one of those insta-winner films that I thought was going to suck. Not sugar coating it. It had a fan base to ensure blockbusters no matter the film's budget, talent or vision. (see: Twilight) This is why I was most nervous about this adaption. HOW were they going to recreate the games and really get it? How? Thank the J-Law Gods that they did not fail on any of those counts. I knew from the shaky camera start that it was going to be amazing. Artistic, not commercial. Raw, not gimmicky. Some of the people and scenes were too…pretty…but I'll let that slide on account of it being a teen film. Still, it's a favorite. (The sequels were…okay.)
1. Pride and Prejudice - Joe Wright
This movie. Gosh, I just love this movie. I get it…it's not the same as the book. It changes some of the language and might not be what you envisioned, but what a vision it is. It's so original. The score alone gives me goosebumps. I saw this movie before I read the book, true story, and I loved it so much that I actually read the book, cover to cover, after seeing it. It made me love the book. Everything was so beautiful and organic and real.
My idea of a perfect Friday night is book and wine in hand watching this movie for the twelve thousandth time and following along at my favorite parts. I love, I love, I love you.
-
So, there's my list. These films just really went beyond "acting out the book." I should point out that I only included movies that I had both read the book and saw the movie. Which is why you don't see any LOTR, loved the movies, didn't read the books. Yeah, I know I suck. I also didn't include movies like
The Giver
,
The Maze Runner
, or
Divergent
. Read the books, didn't see the movies. I'm sure I will someday. Maybe. probablynot.
So, let's hear from you! What are your favorite film adaptations? Do you prefer when they get creative or stick to the script? Do you want true-to-life adaptations? Do you get as upset as I undo when Hollywood messes with your things? Tell me ALL about it.
Don't forget to link up!
(and forget the button. I could NOT get the code right on that thing. So, just link back to this post somewhere on your post so that people can join the fun. I'm not sweating over buttons.)