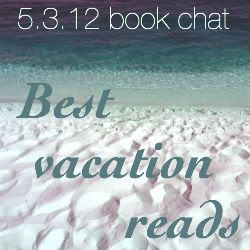 Share your favorite vacation reads.
Is there a certain genre or series you stick to when trying to relax and unwind? The Best beach books? Road trip audio books?}
So, there's no doubt here for me. My favorite vacation reads are always ones where I can be easily entertained without having to do a lot of thinking. I don't want a nail-biter that I cannot put down when I'm on vacation. I know what you're thinking: that's weird, right?
I know this to be true because I was smack-dab in the middle of the third Maze Runner book during our trip to Florida last week. Thankfully, I had my husband to drive and I was able to throw on my earphones and dive right in to the book during the 7 hour drive. But still...I would have preferred to focus more on the book at a more convenient time. At one point I felt the vacation was getting in the way of my reading...and that's just not right.
That is why my go-to vacation books are always paranormal romance novels. I want something that doesn't require much thinking on my part. I love a good love story, and while many of the best literary love stories are buried within a deeper, more intricate story lines, these books are satisfying because they give you that great romance without having to spend a lot of extra time on twisting, multi-layered plots.
My personal favorite romance author is J.R. Ward. I have read every book in the Black Dagger Brotherhood series, but I would gladly re-read any of them if I'm looking to just relax with a good read. After ten books, picking up one of these novels is like visiting old friends. Her writing is funny, sexy, exciting, sweet and passionate without being cheesy or over-the-top. I promise there's more to them than just hanky-panky as the covers would suggest. You know you shouldn't judge a book by it's cover.
I also enjoy Sherrilyn Kenyon.
I actually met Sherrilyn Kenyon at a book signing a couple years ago. I went for my niece who is her biggest fan. After I met her, I decided to start her series. They are great books to pick up if you're looking for something fun, easy to read. She is hilarious in person and super nice. (I had Jude like a week before this, hence my frumpy appearance)
Another great, fun series is the Fever series by Karen Marie Moning.
It's a paranormal series with a kick-A heroine and a super-sexy male counterpart. Yes, even sexier than Christian Grey. They have to save the world basically from an evil force that invades Dublin. It's pretty intense.
So there are my vacation reads.
Can't wait to hear what you all have to share!
Thank you to
Melissa
for the book chat suggestion!
I'm always open to ideas.
Also, if you're looking to do a lot of reading this summer, check out
Semi-Charmed Kind of Life's Summer Reading Challenge
! It's good fun.
Next week's book chat prompt:
Create a music playlist based on the book of your choice.
If you've read my blog for a while, then you know I love creating playlists for the books I'm reading. It can be a lot of fun and it really sets the mood of the story. You can choose a book you are currently reading or one you've read in the past.