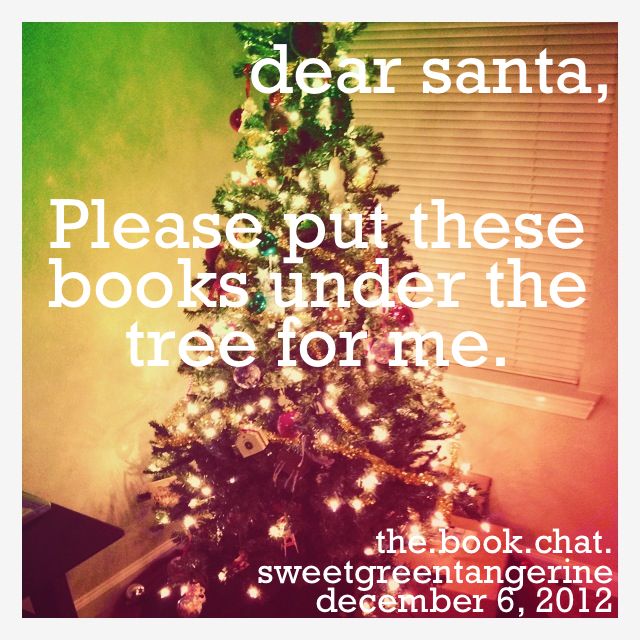 Happy Book Chat Thursday! (the best day of the week if you ask me)
Aren't books the best gifts? I love receiving books as gifts, whether it be a book I've been dying to read or a book that someone else loved and wanted to share. I especially love gifting books to my friends and family. My nieces have always received books from me as gifts since they were little, and I love that I was a part of instilling that love of reading in them. I hope to do the same with my own kiddos.
For the book chat this week, I want to see what books you want under the tree this year. What is on your Christmas wish list?
Here's mine...
Yes, I already read The Night Circus, but I borrowed it from the library, and I miss it terribly. I find myself constantly wanting to pick it up and return to that fictional world I loved so much.
Fever is the sequel to Wither which I received in the Book Swap. I can't wait to read on in this series.
This was a big year for bloggers! I'm all for supporting published bloggers. I forgot
this one
on the list, but I want it too.
And I think my husband should want me to have that Pioneer Woman cookbook as much as I want it.
I also picked out a few children's books that I'm loving this year. If I were made of money, my kids would be getting them all.
I know a certain little toddler who is getting that bottom right book under the tree this year. This is one gift he is receiving because of being naughty instead of nice.
And have you seen
these Baby Lit
books? Little counting board books based off of classic novels. They have P&P, Jane Eyre & Romeo and Juliet. I can't even handle how cute these are.
Also that Press Here book is awesome for those little kiddos that can't sit still through books quite yet. This one is very interactive.
What about you? What books are you hoping will be under the tree for you? Now's the time to drop those hints...you know, in case your family members read your blog. ;)
Link up below.
Can't wait to read those wish lists!
Next week: Book Confessions. This was a little blog meme going around a couple months ago. I never had a chance to do one, so now's the time. You can see an example of one of these posts: here. Basically, we'll be confessing to all of those nerdy book loving things we do.
(If you have already done one of these posts, you are welcome to link that old post up)