Hello book chatters!
Our co-host today is Steph from Scarves, etc. She's a fashion blogger, teacher and book lover. I asked her choose today's topic, and it's a pretty cool one. I think she has something cool to share with us today involving books and weddings. Can't wait to see it! Please go over and say hi.
When I think of coffee table books, I think of books that grab my interest with the cover and concept. I don't normally think of coffee table books as something you read, but more as a piece of decor. I like the idea of having a coffee table book around that is just nice to pick up once and a while, and browse through. Something my guests will pick up. I like the idea of having books out that say something about who I am.
Here are a few coffee table books on my wishlist...
Iconic modern-day music poster designs by graphic artist Jason Munn
I have a book similar to this one. I love just flipping through it.
How could you resist picking this one up? You couldn't.
I'm sure there are many, many more out there. I had never really sat down and thought about getting a coffee table book, but now I really want to shop. I'm so glad we had this topic. Thanks, Steph!
What are your favorite coffee table books? What's on your wishlist?
Link up!
To join in...
1. Please follow the host and co-host
2. Visit a few other book chat links and show some support.
3. Link back here in your post. Or use the button provided.
4. Old posts are always welcome if you have blogged on the topic before.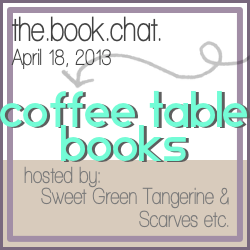 Next weeks topic: What's the strangest book you've ever read?